Speaker Profile: Vasilis van Gemert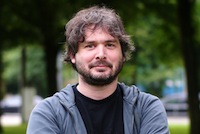 This is part six of a series of interviews with speakers that will be presenting at MODX Weekend, which will take place just outside of Utrecht, The Netherlands from September 19-22. This time: Vasilis van Gemert!
Vasilis is a web designer and instructor at the University of Applied Science in Amsterdam. He is well aware of the unpredictable and chaotic nature of the web, with the large variety of devices and browsers available to users everywhere.
At the MODX Conference in September, he will show attendees how to utilize the materials the web is made of to create stuff that will work for everyone. Vasilis draws information from other disciplines that have also worked with flexible canvases and unclear environments to see what we can learn from them.
Vasilis says he really enjoys teaching students. It has allowed him the time to start playing and experimenting with code and creating art again.
Vasilis will bring some unique and fresh perspectives to the conference, as he has never worked directly with MODX before. However, he admits he might get involved more with the community after the conference.
During the event I will be very involved and depending on my experience I might stay somewhat involved after the event.