Speaker Profile: Susan Ottwell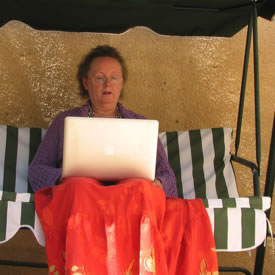 This is part three of a series of interviews with speakers that will be presenting at MODX Weekend, which will take place just outside of Utrecht, The Netherlands from September 19-22. This time: Susan Ottwell!
Susan Ottwell may not need an introduction. She is a true champion of the MODX community and has been involved since it was a set of extensions to Etomite back in 2003. We are super excited to have her on stage at the MODX Weekend.
Susan's talk will be practical, focusing on interesting add-ons and concepts that will make site builds simpler and faster for people that work alone or in small teams.
Susan can often be found helping people in the MODX forums and through her collection of MODX-related content at sottwell.com
Susan sees the object-oriented core of MODX as one of its biggest strengths, but the core's complexity as one of its weaknesses at the same time. To help bridge the knowledge gap, one of Susan's more exciting projects at the moment is a collection of MODX Recipes, or a cookbook if you will, that helps with the lack of documentation of these powerful core processes.
I've wanted to do this for years, a "recipe" styled how-to book, based mostly on forum posts. I'm still working on basic content for each section, besides adding more and more "recipes". As soon as I get a commenting system up and running, I'll be eager to see what ideas and suggestions the community can offer
Susan's talk, How to Simplify Site Setups, is on Sunday at 2pm, in the front-end track.